Back to Events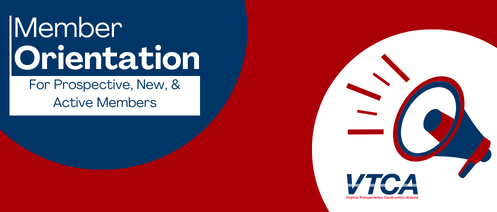 VTCA Member Orientation
Tuesday, November 28, 2023
11:00 AM - 11:45 PM (EST)
Event Details
Join us and meet the leaders of VTCA, meet your peers, and learn to make this your best membership yet!
Are you a new member of the Virginia Transportation Construction Alliance? Are you looking for ways to get involved? Do you want to know the secrets to making your membership work for YOU? If yes, this is the event for you!
During this event, our team will guide you through:
VTCA staff introductions
Our list of events and networking opportunities
Training and educational opportunities
Legislative priorities
Maximizing your presence through sponsorships
Committee engagement
And much much more!
Virtual meeting details are available by registering for the meeting. Details will also be included in your registration confirmation.
For More Information:

620 Moorefield Park Drive Suite 120
Richmond, Virginia 23236
804.330.3312