Committees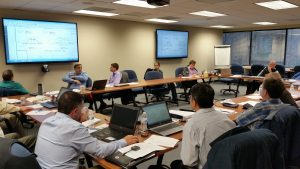 VTCA's strength and effectiveness lies in the talent that our individual members bring to the Alliance. The members combine their energy and expertise through the committees to effectively address some of the most challenging issues facing our industries. Based on the Alliance's membership categories VTCA's committee structure allows members to focus on the issues pertinent to their respective industries while leveraging the combined strength of the organization. Many of these committees include expertise from the state agencies such as the Virginia Department of Transportation and the Department of Mines,
Minerals and Energy.
Board of Directors
The Virginia Transportation Construction Alliance is governed by a 21-member Board of Directors, representing all four classes of membership. The Board is responsible for conducting the affairs of the Alliance in accordance with the Bylaws and Policy Manual. Board responsibilities include ensuring that the Alliance is representing the interests of the membership through the implementation of the association's Strategic Plan.
PAC Legislative Council
The VTCA Political Action Committee and Legislative Council is the advocate for progressive public policy governing Virginia's transportation programs. The PAC supports candidates who support long-term, dedicated and sustainable funding for transportation. The Council encourages VTCA members to take an active role in government affairs.
Investments Committee
The Investment Committee is responsible for the strategy and implementation for the investment of Alliance funds.
Leadership Committees
VTCA's four membership categories, Contractors, Engineers, Aggregate Producers and Associates, are uniquely represented by member driven leadership committees. Charged by the Board of Directors, the leadership committees are designed to advance the interests of its respective category and the Alliance by promoting open communication between its members and all other membership groups within VTCA. The leadership committees actively provide advocacy and representation on important issues by promoting open communication and cooperation with government agencies to establish policy for the members within the best interests of VTCA.
Aggregate Producer Leadership Committee
Subcommittees: Environmental, Marketing, Operations, Safety and Health, and Technical
Associate Leadership Committee
Contractor Leadership Committee
Subcommittees: Structure & Bridge
Engineering Consultant Leadership Committee
Design Build Committee
The Design Build Committee represents the Alliance's interest in Design Build procurement methods and contracting requirements used in Virginia's transportation program related projects. The committee primarily consists of contractor and engineering members, and other industry representatives engaged in Design Build procurement. Since the introduction of Design Build procurement in Virginia the committee has worked closely with the Virginia Department of Transportation to shape the Commonwealth's Design Build program into one of the most successful design build transportation programs in the country.