Who We Are
History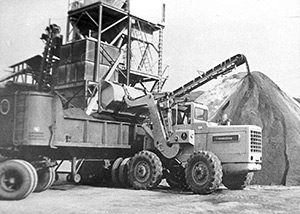 In 1943 a small group of forward-thinking road builders founded the Virginia Road Builders Association to promote the development of the Commonwealth's road and highway network. Similarly, in 1927 a group of conscientious aggregate producers formed the Virginia Aggregates Association to protect and promote the interests, growth and welfare of the mining industry (crushed stone, sand & gravel and industrial minerals) in Virginia.
In 2005 the two organizations merged to become the Virginia Transportation Construction Alliance providing a powerful voice for contractors, aggregate producers, engineers, suppliers and service providers who design, build and maintain Virginia's transportation
network.
Mission
VTCA advocates for transportation funding critical to the quality of life and a healthy business environment in Virginia. Because of VTCA's leadership, in 2013 the Virginia General Assembly passed the largest transportation funding bill in the history of the Commonwealth. This legislation created more than 25,000 jobs, billions in economic activity and will generate millions in new tax revenues, and we aren't finished yet.

VTCA spearheads outreach about the importance of maintaining and enhancing Virginia's transportation network to the Virginia General Assembly, state agencies and the public and provides a forum for open communications, networking opportunities, education, and training for members. Based on our years of experience and industry connections, we put our members in front of the right opportunities to grow their businesses.

VTCA also works closely with VDOT, the Virginia Department of Energy, the Mine Safety and Health Administration, the Department of Environmental Quality and other state and federal agencies on issues of importance to our members.

---
Values

Transportation construction is a complex, challenging and evolving endeavor.  Successful efforts require people of diverse backgrounds, opinions, perspectives, experiences and ideas to bring solutions and maximize engagement.  We value diversity of people, cultures, ethnicity, religion, sexual orientation, language and nationality to build better people, teams and communities.
Our member companies drive success through diverse partnerships and impactful connections to enhance a positive transportation construction climate.
---
What People Say About Us

"VTCA serves as the premier organization promoting transportation in Virginia. VTCA's diverse membership and advocacy are unparalleled and unique. No other organization effectively harbors the collaborative efforts of contractors, aggregate producers, engineers, and associate members toward a singular goal of delivering transportation results in Virginia. Our involvement has been instrumental in our success of navigating and shaping future opportunities."

Mo Kim
President/CEO
Rinker Design Associates, P.C.


"VTCA provides members with unparalleled opportunities to build relationships and directly engage with owners, contractors, suppliers, legislators, and policy makers about the issues affecting our industry. Having a seat at the table lets your voice be heard and allows you to be part of the solution. "

Jon Harman
Senior Vice President
Shirley Contracting Company, LLC


"As an aggregate producer in Virginia, we feel that it is our responsibility to not only be a member but to also actively participate in the association. We have received unparalleled value from VTCA when it comes to representing our industry with state legislators, enforcement agencies, and the Virginia Department of Transportation. I have been in the aggregates industry for over 33 years and have met some of my best friends and colleagues through VTCA."

John LeGore
President
Luck Stone