Back to Events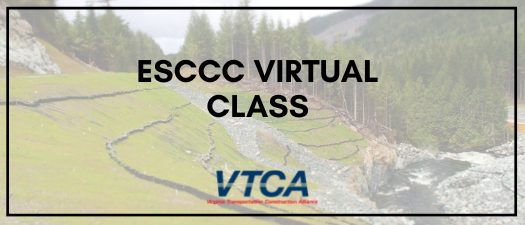 Virtual ESCCC
Wednesday, October 26, 2022
Virtual Class and Online Test - class information will sent to participants prior to the class.
Event Details
The Virginia Transportation Construction Alliance, in conjunction with the Virginia Department of Transportation, is offering a virtual Erosion and Sediment Control Contractor Certification Program. This course is intended to train individuals involved in implementing Erosion and Sediment Control Plans on VDOT projects and rights-of-way. Participants who complete the course and pass the online examination at the end of training will receive a certificate of completion. This certificate meets VDOT's E&S certification requirements. There are no prerequisites for this course.
NO REGISTRATIONS AFTER OCTOBER 18, 2022 TO ALLOW FOR MATERIALS SHIPPING.
All course materials will be sent to the participant via FedEx prior to the class. The course will be offered using Zoom and an online testing platform. Each participant must have access to a computer with a camera for the class and test. Phones and tablets will not work. Check in begins online at 7:45 a.m. with the course beginning at 8:00 a.m. and ending at 4:00 p.m. A scanned copy of the participant's DMV issued identification must be emailed to Stephanie Rusnak prior to the class.
Space is limited. Because of the large volume of recertifications, we are limiting participation to ten employees per company per class. Additional participants will be handled on a space available basis. Enrollment forms will be accepted on a first-come, first-served basis.
An examination will be conducted online at the end of the course and the results will be mailed to the participant at the company address specified on the enrollment form. Participant must have access to a computer with a camera to complete the test.
We will be offering Professional Development Hours for the ESCCC Training Program. If you are interested in receiving PDHs please contact VTCA.
Virginia DEQ has approved the ESCCC course for six contact hours for inspector recertification under 9VAC25-850. Individuals must hold a current DEQ inspector certification and attend the entire ESCCC course lecture to receive DEQ contact hour credit. You are not required to take the course examination. This is for ESC and SWM Inspectors ONLY.
Please contact VTCA's Stephanie Rusnak with questions.

VTCA reserves the right to cancel this course due to low attendance.
Cancellation Policy: Refunds, less a $45 administrative fee to cover your materials and shipping, are available when cancellations are received prior to the close of business October 20, 2022. Cancellations received after October 20, 2022 and no shows are not eligible for refunds. Substitutions will only be allowed if arrangements are made with VTCA prior to the class date.