Back to Events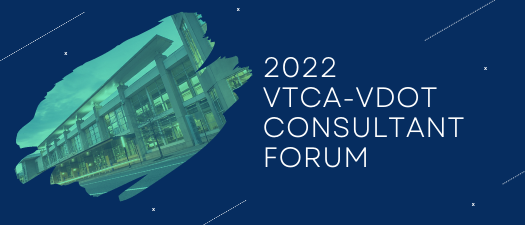 2022 VTCA-VDOT Consultant Forum
Tuesday, September 27, 2022
Event Details
Consultant Engineers are invaluable when it comes to delivering Virginia's growing transportation program. With unprecedented growth in the program, VDOT and local governments are dependent on the efficiencies and expertise the consultant industry provides. Understanding the Department's goals, plans and expectations to deliver a robust transportation system to Virginia is essential for your company to succeed.
Join us this fall to learn firsthand from VDOT's leadership and staff responsible for procurement and administration of VDOT's consultant engineer program. Whether you specialize in design, inspection, staff augmentation or all three you will want to be at this year's VTCA-VDOT Consultant Forum.
This year will be the first time in three years that we are bringing together, in person, hundreds of professionals from across VDOT, industry and localities. Attendees will hear firsthand the Department's goals and plans to utilize the consultant industry to deliver the Commonwealth's transportation program effectively and efficiently.
Registration Fees
Early Registration (ends August 31)
VTCA Member Registration - $300.00
Non-Member Registration - $375.00
Regular Registration (begins September 1)
VTCA Member Registration - $350.00
Non-Member Registration - $425.00

Late Registration (begins September 15)
VTCA Member Registration - $400.00
Non-Member Registration - $450.00
Early Registration Deadline: Wesnesday, August 31, 2022

Locality representatives interested in attending should contact VTCA directly to obtain the appropriate locality registration materials.Please contact Dana Morris at VTCA with any questions.
Cancellation Policy: Refunds, less a $35 administrative fee, are available when cancellations are received prior to the close of business September 16, 2022. Cancellations received after September 16 are not eligible for refunds, however, substitutions are encouraged.
Please review the VTCA Code of Conduct Policy. By attending this event you are agreeing to the policy.
Download Agenda
Forum Sponsorships Available
Demonstrate your company's commitment to Virginia's transportation program by being a sponsor of this year's Forum. As a sponsor your firm's commitment will be promoted and recognized throughout the event. Sponsorships are available starting at $350.
Sponsorship of the VTCA-VDOT Consultant Forum is for VTCA Members Only.
Sponsorship Opportunities
Platinum Event Sponsor - $1000 (Breaks, Lunch, Reception - limited availability)
Gold Lunch Sponsor - $500
Gold Reception Sponsor - $500
Silver Morning Break Sponsor - $400
Silver Afternoon Break Sponsor - $400
Bronze Charging Station Sponsor - $350 (sold out)
The deadline for sponsoring is September 14, 2022.
A portion of the Consultant Forum proceeds will benefit the VTCA James G. Browder, Jr. Memorial Scholarship