Annual G.I.R.L. Construction Experience
Date posted
August 10, 2023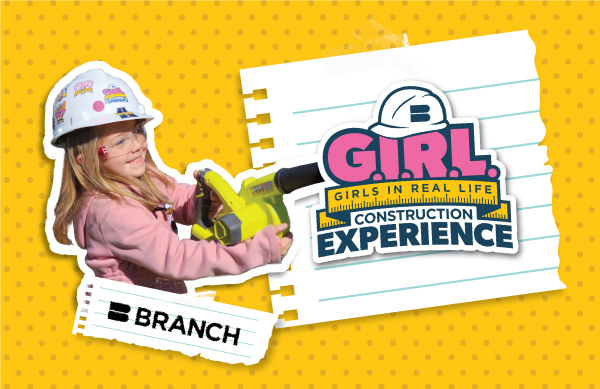 Branch is excited to host the second annual G.I.R.L. (Girls in Real Life) Construction Experience on October 7, 2023. This free event aims to inspire and empower girls aged 5 to 18 in the world of construction and engineering and fosters a safe, inclusive, and non-judgmental space where girls can explore their interests. They will learn from successful female professionals who serve as positive role models. Join us for a day of excitement, discovery, and empowerment!

Supported by partners and organizations like the National Association of Women in Construction, we offer a diverse range of activities, such as excavator tennis, BIM, heavy equipment demonstrations (and operating), project budgeting, and virtual reality. Girls can freely explore activities tailored to their age and skill level. Each completed activity earns them a hard hat sticker, just like the pros! We provide lunch for the family, safety gear, and a bag of goodies.

Roanoke area schools will be present to talk to parents and girls about the classes and programs available, for further learning.

The construction industry faces a shortage of skilled workers and lacks gender diversity, with only 14.1% of the workforce being female. To address this, Branch is committed to raising awareness and attracting young talent. We aim to dismantle biases and encourage girls to pursue STEM careers, including construction and engineering.

Other opportunities to explore construction STEM careers is showcased in our construction exhibit with Carter Machinery at Kids Square. The exhibit is designed to introduce young children to construction through hands-on activities. From operating electric-powered excavators to framing playhouses with real power tools, our immersive experiences ignite curiosity and inspire imagination.

Registration opens August 9. Visit www.girlsbuild.com to learn more.

When: Saturday, October 7
10 am - 4 pm

Where: Roanoke, VA

Cost: Free

Interested in becoming a partner?

Email girlevent@branchgroup.com to see how your organization can get involved.