New Member: GeoStabilization International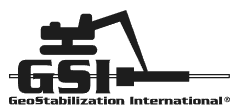 GeoStabilization International® began through the vision of founders Robert Barrett, P.G., and Al Ruckman, P.E. Both had spent 30+ year careers in public sector transportation and became known internationally for their contributions and leadership in geotechnical research, design, construction, and maintenance. Building on their broad experience and inspired by their research discovery, the Soil Nail Launcher, they formed Soil Nail Launcher, Inc. a landslide remediation company. In 2008, sons Colby Barrett, P.E., and Tim Ruckman took over the company and have continued the philosophy of their fathers. Barrett and Ruckman continued to build from that foundation into today's GeoStabilization International®, the leading geohazard mitigation company in North America.
GeoStabilization's focus on bringing new technologies to the critical infrastructure and geohazard repair industries reduces project time, cost, and also minimizes environmental impact. Their geotechnical engineering staff focuses on the most efficient use of component materials (for example, using steel and fiberglass in tensile applications rather than in bending or shear) while their field operations group focuses on creating purpose-built equipment to maximize installation speed while minimizing site disturbance.
4475 E 74th Avenue, Suite 100
Commerce City, Colorado 80222
855-579-0536
www.geostabilization.com/
VTCA Contact: Jordan Kelley
jordan.kelley@gsi.us